Hua Hin gets the best wind for kite surfing in Thailand and we have wind nearly all year around! Hua Hin Kitesurfing offers the ultimate environment for kitesurfing lessons in Thailand with shallow water, wide swallow sandy beaches, and a huge area for kite surfers.
Add to that a lot of sun. The area in Thailand with the least amount of rain per year, white fine sand, pristine beaches, the clear waters of the Gulf of Thailand, good night life in Hua Hin center and great restaurants. A great location just 200 kilometers south of Bangkok.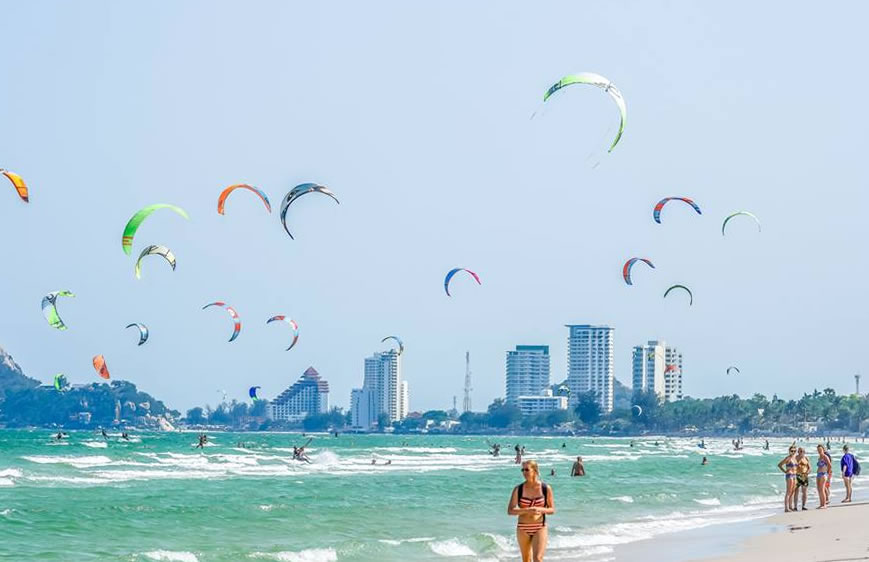 Kitesurfing is easy to learn – the wind and the spot
Hua Hin has a 6km beach with shallow water, this makes Hua Hin the perfect place to learn kitesurfing. We have a long season with good wind and for you as a kiteboarder you can come and enjoy the longest wind season in Asia.
We teach only using new technology Cabrinha and Airush kites and nice harnesses and a kiteboard customized for our customers' weight. Combine this and you have the perfect location to relax, kite and to learn how to kiteboard! You can live close to the beach and enjoy your lunch at the beach restaurant at the spot, where you park your kite.
After your lessons you can just relax at a sunbed and watch people kiting and just have a lazy afternoon. You can also have a good massage at the beach beside the school and a good thing, it's not expensive.
Thailand Kitesurfing instructors
All our kiteboarding instructors are IKO (International Kiteboarding Organization) certificated and we teach max 2 students per instructor. After you are finished with your course you will get your level certification and be registered at IKO. Hua Hin Kitesurfing has insurance which covers you and 3rd parties.